Spruce & Gussy was open before 6 a.m. this past Saturday for the 17th Annual Early Bird Sale. To be honest, I hadn't attended this event before last year, when I had to work at it. How much fun can wandering around town in your pajamas before 9 a.m. possibly be? Turns out it's a great time!
We had coffee and homemade breakfast treats, and a storewide sale of 25% off. Michelle, Abby and I were all in our pjs, and so were most of the people who came through the door, such as these lovely ladies in their bright and cheerful robes.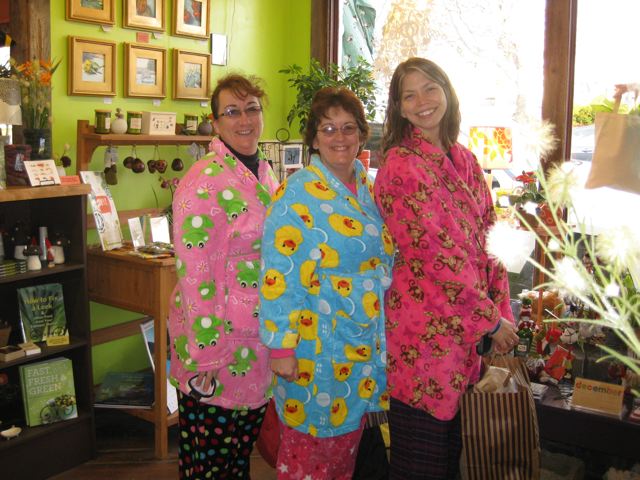 So cheerful! They must be morning people…
The bed races were exceptionally spirited this year. Though our next-door neighbor Leary's Landing didn't win, I admired the their no-nonsense bed.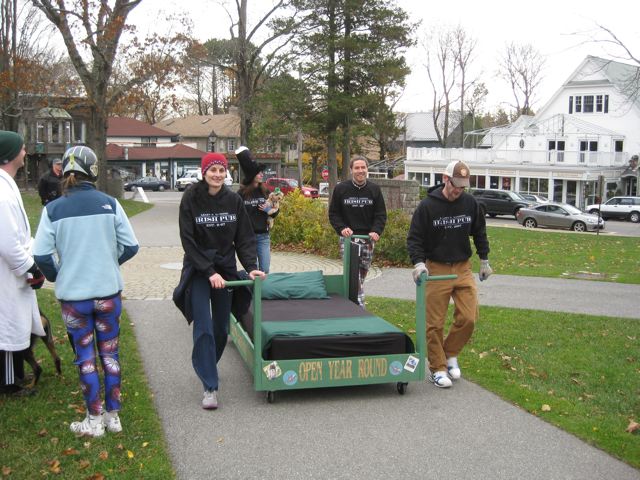 The practical Irish approach to a bed race
Michelle hadn't really slept the night before, so by 10 a.m. she was a little goofy. Well, actually, she was pretty goofy at 5 a.m., too. Here she is modeling one of our new Christmas decorations.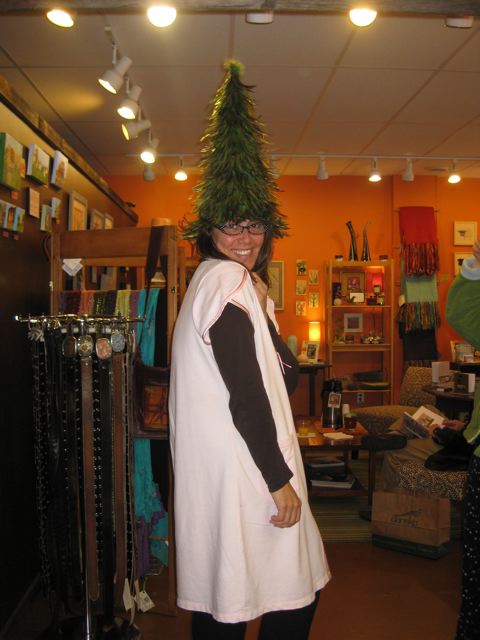 Our own Spruce & Gussy holiday gnome
If you missed all the fun this time around, be sure to join us for one of our other events in the next few weeks that will be both fun and economical. The first is Small Business Saturday, which happens on November 26, Thanksgiving weekend. If you are an American Express cardholder, register on their site, and spend $25 at a small business on that Saturday, they will give you a $25 statement credit. Free money! We accept Amex at Spruce & Gussy, so a purchase of at least $25 here on that day will get you that $25 back. In addition, the Bar Harbor Merchant Association is doing a drawing for another $25, this one a gift certificate that can be used at any participating BHMA member business, which is most of the town at this point in the year. All you have to do is stop by a participating business and make a purchase on Small Business Saturday, and you'll be entered in the drawing. Another chance at free money! We'll have an in-store giveaway that day, too, so make a point of stopping by to enter for your chance to win something fun.
Soon after Small Business Saturday is the Annual Village Holidays and Midnight Madness celebration in Bar Harbor. Santa arrives around 5 p.m. on Friday, December 2nd to light the tree in the Village Green, and then there are bunches of fun events for kids down at the YMCA starting at 5:30. At 8 p.m., Midnight Madness starts, another town-wide sale event where you can get great deals on gifts and holiday accessories. Here at Spruce & Gussy we'll have 10-50% off, with most of the store discounted by 25%. Add in our holiday Champagne punch and some tasty snacks, and you really can't beat it.
Stay tuned for information about the Bizarre Bazaar, our own in-store artisan fair that we host with Danielle over at Macey's. For more info about any of these events, please give us a call at 288.2454. Looking forward to seeing you soon!
–Patti