the studio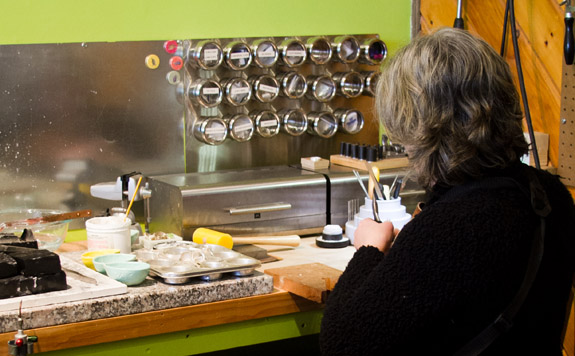 shop (SHäp) n. 1. A small retail store 2. An atelier; a studio
Both of these definitions fit our shop. Our commitment to handmade goods from small companies grows from our own roots. We are artisans, crafting in metal, wool, stone, paper, and cotton. Our love of handmade things comes from our appreciation for the time, energy and passion that is invested in each piece.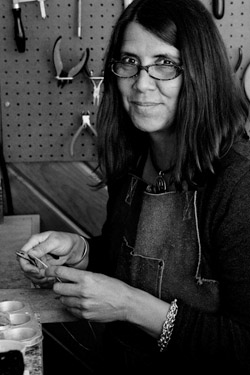 Michelle Souza
Michelle grew up both on Cape Cod and in Bar Harbor. Like Patti, she spent a good deal of her working life in restaurants, though she also put a degree in Physical Therapy to good use working with children in the local schools for a number of years. She has been knitting for decades, and her colorful handmade felted bags are locally famous. She creates a number of other delights through her craft business, Eden Fiber Arts, including felted bowls, vases, and soaps, a few different lines of greeting cards, and all kinds of wonderful holiday gifts and decorations. She's spent some time at the metalsmithing bench, and is working on a line of organic designs featuring beach stones, gemstones, and charms. She lives in Bar Harbor with her partner Dan, and enjoys hiking the island trails with her good friends, of whom she has many.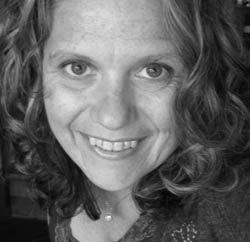 Patti Savoie
Patti is a native of Maine and has lived in Bar Harbor for over three decades. After many years of restaurant management and ownership, she decided to pursue a more creative route by apprenticing to Lisa Hall, making handmade sea glass jewelry in Northeast Harbor. A Bar Harbor girl at heart, she brought her new love of metalsmithing back to her adopted hometown and opened Spruce & Gussy with her dear friend Michelle. She offers two different lines of jewelry through posy studio, including a gemstone collection and hand-forged initial charms. She also sews, knits, makes soap and sea salt caramels. Patti lives in a small house a stone's throw from the ocean with her daughter, an aloof cat named Satsuki and a cute but troublesome kitty named Fly.