Wow! What a month it has been, and we're only halfway through. Bar Harbor's first Fashion Night Out happened on September 8, and it was a fabulous event. Merchants all over town participated, and there were drink specials and dance lessons and art openings and Santa(!) and plenty of libations. It was really, really fun. So much fun that I didn't manage to get any photos. So you'll just have to take my word for it when I say that here at Spruce & Gussy, we all looked fancy and had a blast. Many thanks to Tegan Curry for bringing extra sparkle to our store.
Life has been so full of events like these, and the beginning of school with the mayhem that tends to bring, that I haven't been farther from the shop than Cottage Street in weeks. So imagine my surprise when I found myself with a free half hour one afternoon this week and wandered down Main to see this.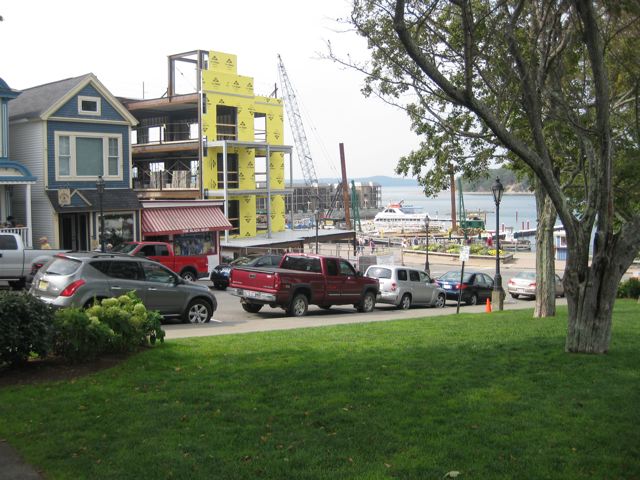 Like everyone in town, I knew this was happening. But there is something about actually seeing it that makes it much more real. Bye bye Quarterdeck, hello hotel. Odd. And then I turned from that spectacle and walked the shore path to see this one. Again, I am well aware that there are cruise ships in our harbor almost every day in September and October. And I know that they are big. But holy moly! That thing is the same size as the Porcupine Islands! Wow.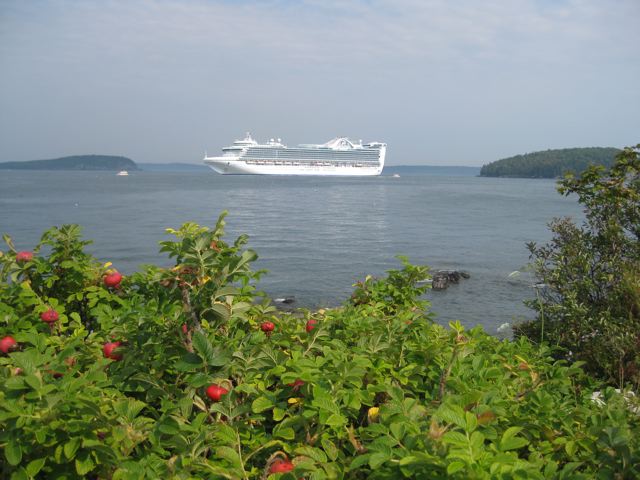 Well, back to Spruce & Gussy. We are gearing up for another event, this time starring the incomparable Susan Fleming. As you probably know, we've been carrying Sue's work since we opened. Primarily her chiyogami work, which is her simple and elegant silver settings with Japanese silk-screened paper and resin. Colorful and classic, it is a very popular line.
We also carry her newer work, which features fine silver, sterling and gold, mixed together and sometimes sprinkled with tiny diamonds. Like Sue's other work, the effect is modern yet classic. Sue was an MDI resident for many years. She and I worked together slinging drinks til all hours of the night (and into the morning) at the Lompoc, and she also worked for Sam Shaw in Northeast Harbor. She moved her sweet self and her talent out to Jackson, Wyoming a while ago now, and those of us on the island who know her have been missing her ever since. So this show is extra special for Spruce & Gussy, because it will be a reunion of sorts as well. And this might be a secret, so shhhh! But Sue will also celebrate a special birthday here this week, so stop by to wish her a happy one.
As always, there will be beverages, sparkly and non, alcoholic and non. There will be snacks and fun music and lots of wonderful people. It all happens Saturday, September 17, from 3-9 pm. Please stop by and join us.
–Patti