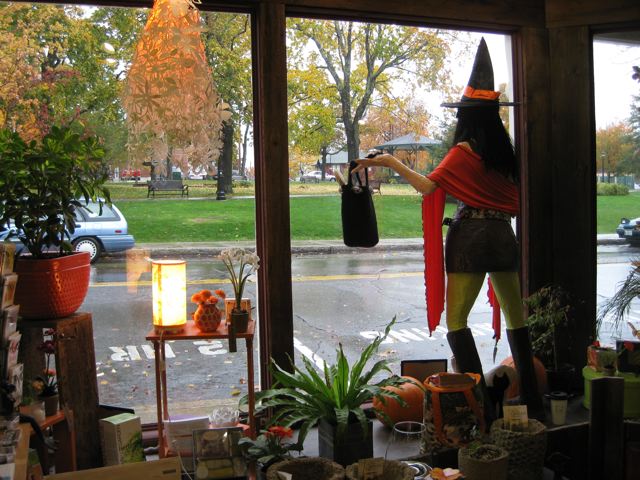 There's the Village Green on a rainy day in late October, as seen through our front window. We knew business would ebb this fall, but it was only this past Monday that we really noticed it being quieter. But, boy, is it ever quiet now.
It's a little bit difficult to switch gears and begin to focus on the long list of administrative and artistic projects that we haven't been able to get to in the flurry of opening a new store and running it through a busy Bar Harbor season. Both Michelle and I have many plans, both for the store and for our own work, but it's hard to switch focus so abruptly. So we'll take a couple of days to stare out the window and fret about the encroaching darkness and impending winter, and then we'll get back to work.
Just a few things on our list include working on our website, getting our mailing list in action, and getting ready for the holidays. Spruce & Gussy will be open until the end of the year, and we're looking forward to the season.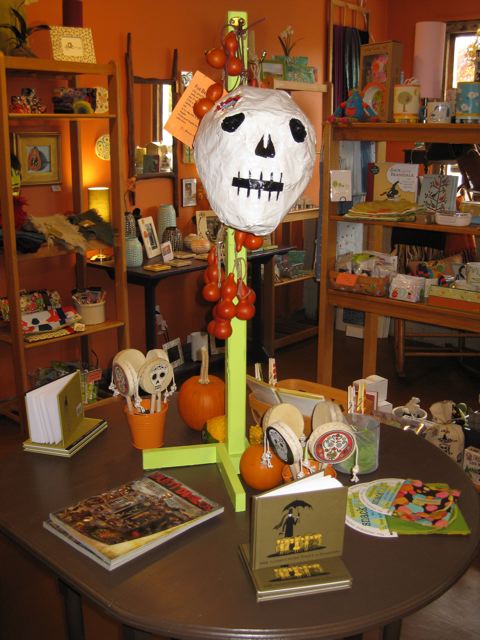 Here's a bit of our Halloween display, featuring that awesome skull pinata by Valerie Wallace. After All Soul's Day, we'll start bringing out some fun little things for Christmas, including some fantastic cards, a few new books, and some yummy smelling candles. And Michelle and I are working on handmade ornaments, mostly of the felted variety. We're also getting our bags and jewelry ready to send to a couple of other shops, including Christina Heiniger's Gifted Hand Shop that will be open in Ellsworth after Thanksgiving. We'll be open for both the big holiday sales in town, the Pajama Sale and Midnight Madness. We are also working on a small Holiday Craft show right here at Spruce & Gussy. We'll be sure to give you all the details on all this as soon as we know more.
We'll be here more often now, with updates on the stores, and other interesting tidbits about crafting, our friends, and the off-season life in Bar Harbor. Thanks for coming by. –Patti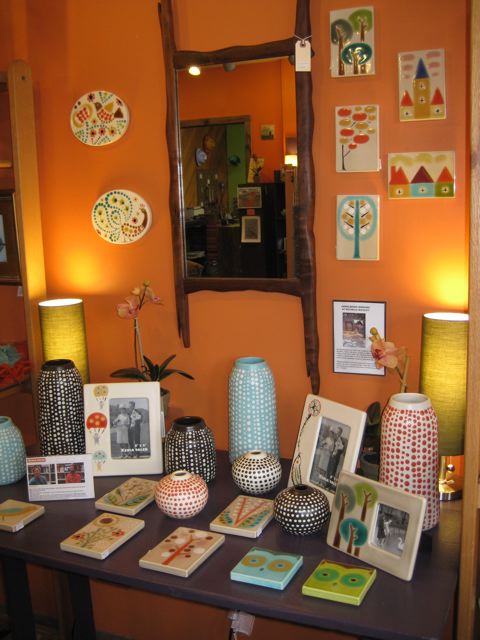 Tiles, frames and vases by Xenia Taler, handcarved walnut mirror by Michelle Buckley.