The loveliest light snow is falling. I'm not sure anything fills me with more holiday cheer than the sight of powdery snow on fir trees. That and the soundtrack to A Charlie Brown Christmas. Today I have both, so I'm positively brimming with good will. I've been looking forward to our upcoming weekend, when Spruce & Gussy and Macey's will be filled with some of my favorite artists and their holiday wares, but with this added dose of yuletide gaiety, I feel like a kid on Christmas Eve.
One of the artists that you will find this weekend at Spruce & Gussy is Jennifer Judd-McGee. Jen is well-known for her paintings, drawings, and collage, and all the fabulous things she does with them. Her blog, Swallowfield, is one of my all-time favorites. Come to think of it, she's one of my all-time favorites.
Here is an array of her work: originals, prints and cards. The fanciful drawings capture Maine at its best, I think, and the bold colors and images in her collages are engaging and joyful.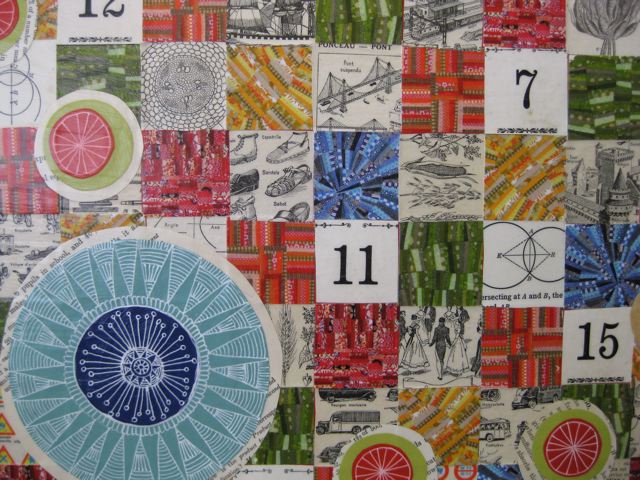 This is a closeup of one of her original collages. I think that the burst of color is immediately cheering, and then the drawings and shapes give the piece complexity and depth. Jen will have an array of items for a wide range of prices, so you can pick up some unique holiday cards, or a very special gift. It's going to be a very merry weekend!
–Patti