The Midnight Madness sale was just that for us; madness up to and including at midnight. It was really, really fun. We got to see lots of our friends and we thoroughly enjoyed ourselves. Perhaps a bit too much; I didn't quite have the energy to offer up an advent entry yesterday after my four hours of sleep.
But we've recovered now, and this week we'll spend finalizing plans for the Bizarre Bazaar. This is a great event that Danielle down at Macey's has been hosting for years now. She has graciously invited us to share the good time with her, so both stores will host a number of artisans who will be selling their own work. Additionally, both stores will be having sales and there will be snacks and beverages, both alcoholic and non. It's a great chance to shop locally, and to directly support artists who live right here in Maine. We'll have more details later this week, but keep it in mind as you plan your December weekends. It'll be Friday, the 10th, from 11 to 7 and Saturday from 10 to 6.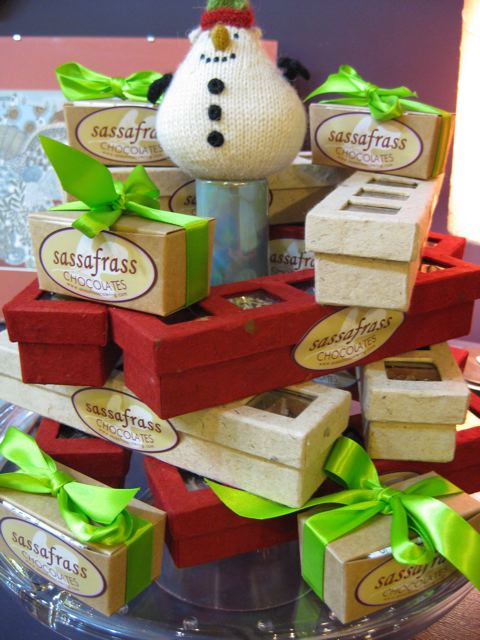 Amanda of Sassafrass Catering came by on Friday and dropped off our advent pick for the 4th; her fabulous hand-made truffles. They are made with organic and fair trade ingredients, and come in exciting flavors like hot curry, cinnamon & ancho chile, lavender, sea salt, and ginger. And to top it all off, her packaging is just gorgeous. I've found these little treasures to be a great gift for teachers, bus drivers, grandparents, yourself. You name it. We'll have Sassafrass truffles through the end of the year. And Amanda will be here for the Bizarre Bazaar next weekend, so you can buy some directly from her if you come in then.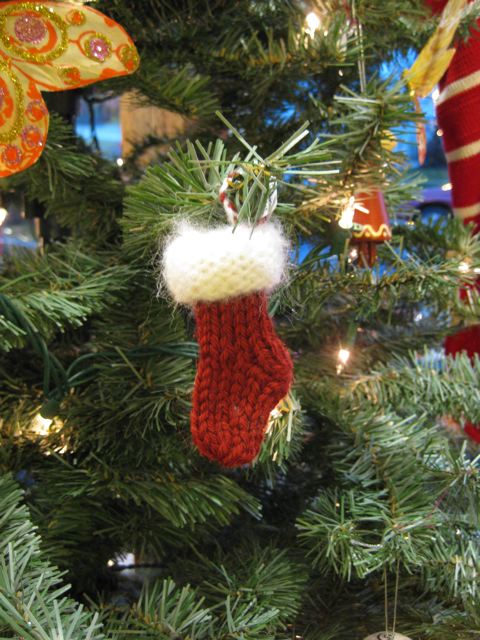 Our advent pick for today is a combo pack of handknit holiday amusements. Michelle makes the tiny stockings, which are perfect for your tree. She also makes some into pins, which come in these sweet little packages. Very sweet and a fun addition to your holiday decorating, whether it is your home or yourself.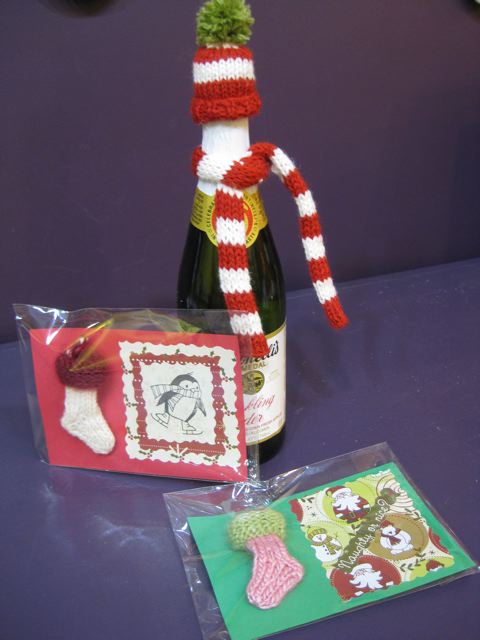 And when it comes time to decorate that bottle that you're about to bring as a gift to your next holiday party, try one of these handknit accessory sets on. A wee hat and scarf that I've knit to fit your bottle perfectly. A little silly, pretty cute, and definitely fun.
We'll be closed Monday as usual, but we're here every other day 10-6. Stop by and say hello.
–Patti