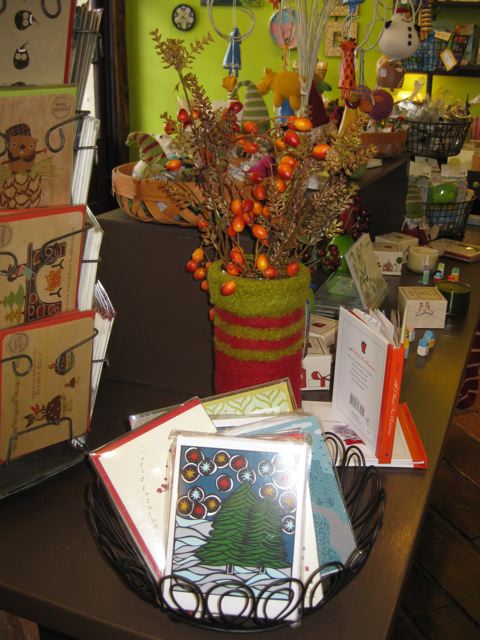 Our holiday table, featuring cards by Jennifer Judd-McGee and a felted vase by Michelle Souza.
Whoa. How did it get to be December already? But there's no doubt, judging by the look of my list today: take a Christmas card photo, post info about the Midnight Madness sale, work on some custom posy studio pieces to be delivered in time for holiday giving. I love this time of year, but sometimes wonder why it has to be SO chock full of fun things to do. Wouldn't it be nice to spread it out a little?
Not an option, so let me tell you about this weekend. This Friday, it's the annual village-wide Midnight Madness sale from 8 pm til midnight. Like the early bird sale, many of the town's shops are open and offering deep discounts. Unlike the early bird sale, they're also offering savory snacks and wine; much more our style than coffee and donuts at 6 am! In addition, there's a celebration on the Village Green starting at 4:30 pm, with carolers and Santa arriving by fire truck at 5 to light the tree in the gazebo. Lots of kid-friendly activities and hot cocoa at the YMCA from 5:30 until 7, so it's a great night for children and adults alike. Here at Spruce & Gussy we'll be offering 30% off storewide, with the exception of a few items (some less, some more!). And we'll have tasty snacks and wine, so come by and relax on our sofa. We'd love to see you!
In the near future we'll tell you all about the Bizarre Bazaar, which happens December 10 & 11 this year. In the meantime, we're starting a Spruce & Gussy style advent calendar today, highlighting a fun and festive item each day from now until Christmas. Today it's these adorable wee houses by The Little Red Door.
Each house is ceramic, handmade and glazed by a Canadian artisan. They come in all sorts of colors and a few different styles, and are just so dear. Perfect for tucking in amongst the candles on your dinner table for holiday decorating, or for the stocking of a little girl who adores teeny, tiny things. Like me.
Happy holiday season, let the merry making begin!
-Patti