Ah, it must be spring. The weather is offering only the slightest clue, given recent flurries and chilly temperatures. The real indication for me is the advent of happy chaos. More activity in town, with visitors to the town strolling the streets, and lots of packages coming our way as we gear up for the season. Most happily, new art by two artists who live right here on MDI.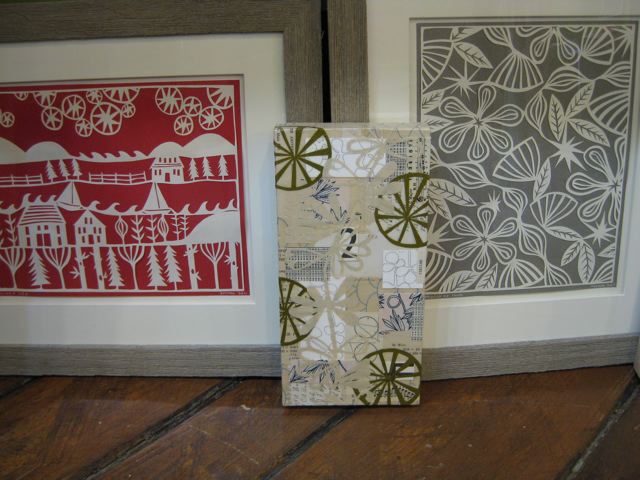 Jennifer Judd-McGee came by with some of her new work, including a few papercuts. Here are two of them with one of her collages. Simple designs executed intricately, they are so pretty. She also brought some of her pen and ink drawings, highly detailed scenes with splashes of color. We're so happy to have Jen's work here at Spruce & Gussy. We're looking forward to carrying some of her new work that is the result of her collaboration with local woodworker Bill Sanborn.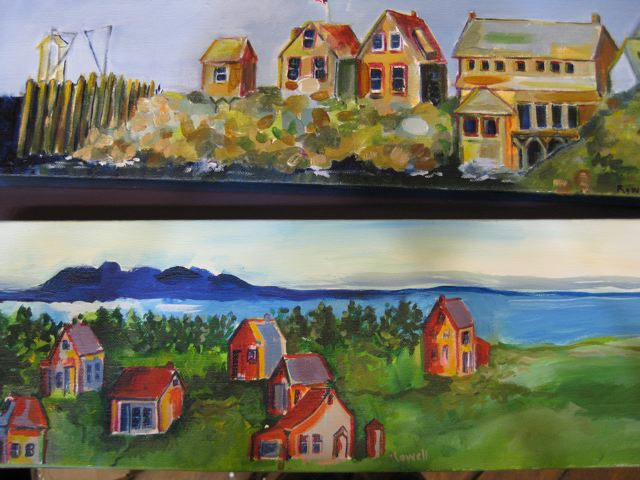 Linda Rowell-Kelley also stopped by with new work for us, gorgeous paintings of island scenes. Here are two of them; they are full of the blues of sea and sky with warmly lit cottages and trees. These new pieces are very different than the garden paintings we had last year, but just as beautiful. Linda's subjects vary widely, and it is always exciting to see her interpretation of another subject. We also carry painted clothespins by Linda, a very practical and economical way to acquire a piece of art.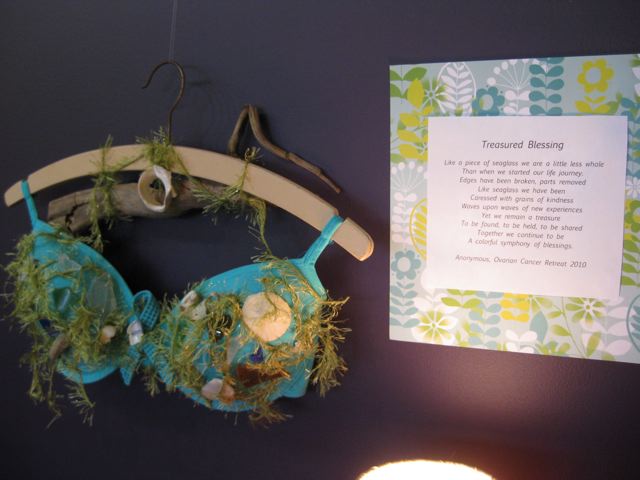 Also new for us is the Mermaid's Bra. Designed by an ovarian cancer survivor, it is a traveling exhibit designed to raise awareness and funds for combating ovarian cancer. The bra and accompanying poem will be at various locations along the Maine coast this spring and summer, and all funds raised will be donated to the 2011 Ovarian Cancer Retreat and to a scholarship fund in memory of Kristen Klint, who lost her life to the disease at age 46.
We're also preparing for our Wishful Thinking Open House tomorrow night from 4 to 7 here at Spruce & Gussy. We'll be toasting hopefully to spring with sparkly beverages both alcoholic and non. It's a great chance to see some of the fun new things we have coming in every day, and to jot down a few of the things that you really adore. So when your partner/husband/friend or child wants to buy you a gift (which of course they will!), we can make it easy on them and a happy occasion for you. We both love parties, and hope you can come by to enjoy it, too.
–Patti