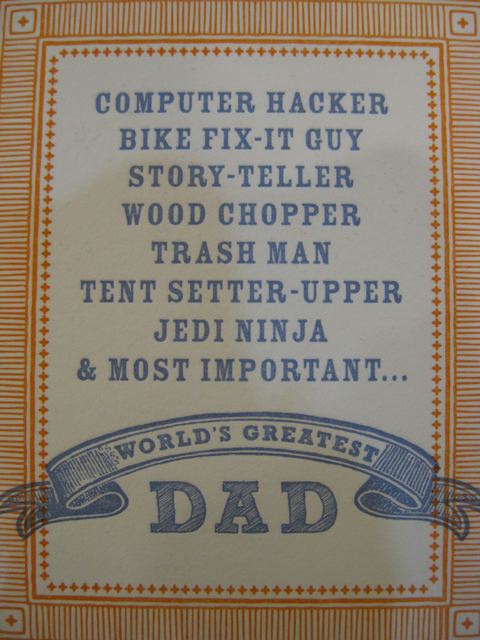 Mid-June means a few things around here. It means Michelle's birthday (happy birthday, Michelle!), and that the kids are almost out of school (just one half day left!). It also means that Father's Day is coming right up, bringing the annual scramble to find a gift for that beloved guy who is so difficult to shop for, at least in my world. I love my dad dearly, and probably the best gift would be an afternoon spent drinking a beer in the sun together. But I can't always manage the journey, so I'll have to come up with something else.
This year we spent a little extra time trying to find some good gifts for guys. And I think we did find a few that pass muster. Take, for example, this new pottery we just got in.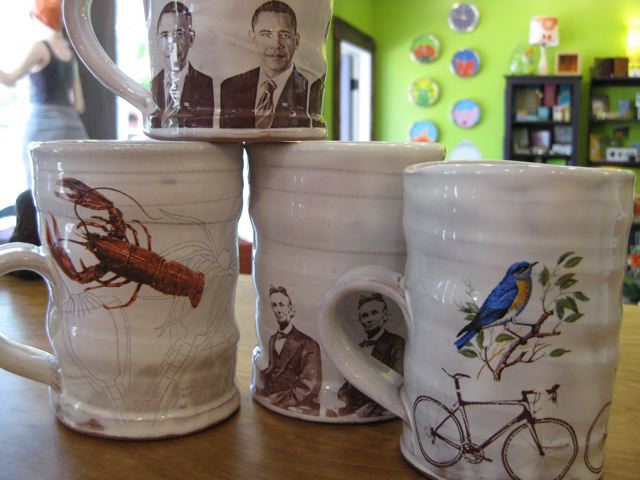 It's made by hand in Indiana by a fellow named Justin Rothshank. It feels great in your hand, solid and cool. Being hand-thrown, each piece is completely unique. And would definitely make a perfect gift for certain dads.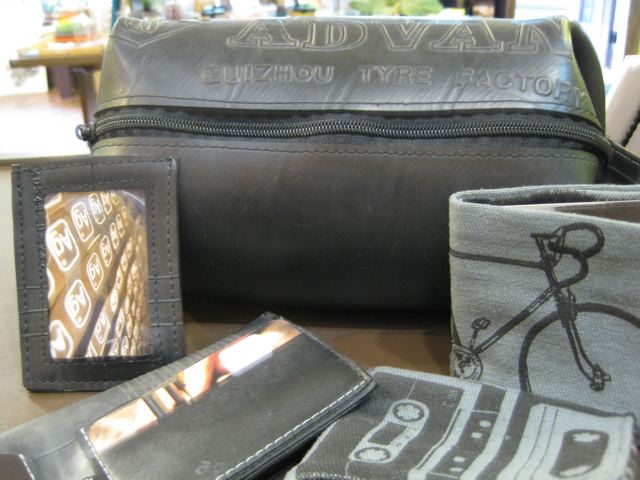 We've also got some great wallets and dop kits, some fashioned out of old inner tubes, others from leather and eco-friendly fabrics. I think my kids need to get their dad one of the rubber card sleeves so that he can throw out the worn piece of tyvek that passes for his wallet these days.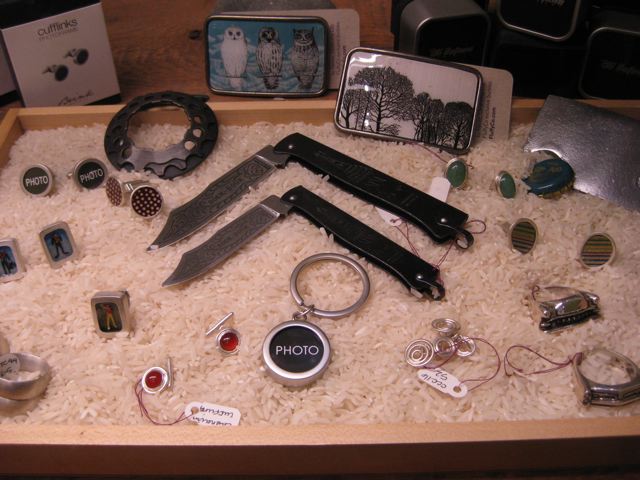 If you've got a guy who'll wear a ring or cufflinks, we've got some fantastic ones. The rings are all sterling and there are grilles of various antique cars, or big chunky bands by Tegan Curry. Wicked cool. We've got cufflinks by Susan Fleming, Carrie Cross, and some of my little people, as well as a set in which you can put photos of your sweet smiling children. And then there are those lovely pocket knives from Douk Douk of France, simple and elegant. We've got lots of belt buckles, all handmade in the US, including the very clever ones that also open bottles; we've got belts to go with them or you can get just the buckle.
We're on our summer hours now, open every day 10 am until 10 pm, so it's easy to stop by Spruce & Gussy to pick up something for dear old Dad. You'll both be glad that you did.
–Patti