Wowza. No matter how many years I live and work in this town (I'm mid-way through number 23), it is always stunning to me how quickly it goes from bustling tourist destination to ghost town. Okay, perhaps it's not quite that extreme, but there isn't much of a transition period, not nearly so much gradual dwindling as you'd expect. Main Street still sees a fair amount of traffic from the last few cruise ships. For us over here on Mt. Desert Street, it's more like there's a switch. Yesterday it was on. Today it is off.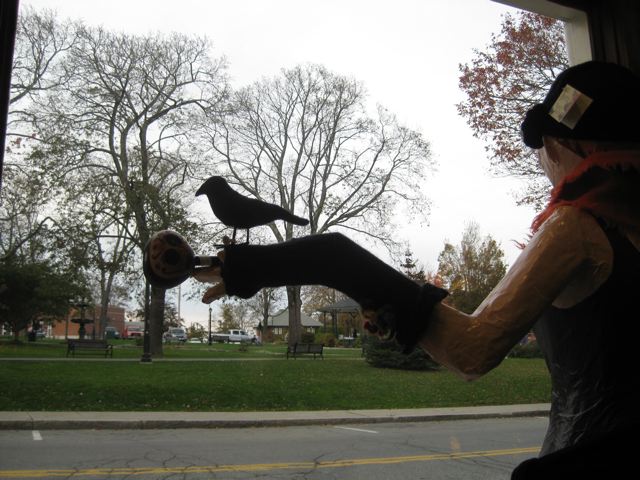 Autumn in Bar Harbor through the window at Spruce & Gussy
I remember writing a bit about this phenomenon last year. Michelle and I weren't really prepared for just how drastic the change would be in our little shop, nor for how abrupt. So we spent a good deal of time in late October and early November staring out the window, twiddling our thumbs, and worrying. This year we vowed to cut that time down to two days each, tops. I don't know about Michelle, but I'm going to spread my allotment out over the next few days, focus in the morning and stare vacantly into space in the afternoon. Or vice versa. Take my sweet time getting out of my own way.
To that end, I have spent a fair number of hours clicking mindlessly around Facebook. Nobody seems to be up to much of anything at all, or perhaps I'm just projecting. And then I've made myself step away from the computer, and I have gotten busy. I've knit a scarf using a pattern I wrote to give out with the purchase of a skein of Manos yarn, and I've started knitting another that will be for sale. I've finished setting a couple of stones, including an opal in a pendant and an amazonite in a ring. And I've started the metalwork for an order I'll be shipping off to the Portland Museum of Art gift shop. Yep, I've got to admit that this last one is pretty exciting.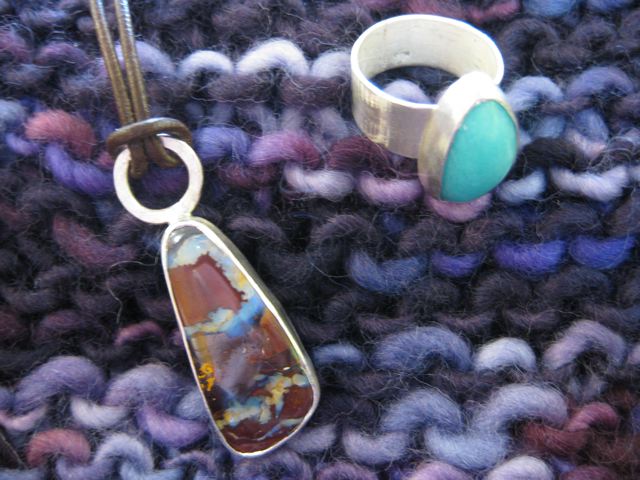 Scarf, opal pendant, and amazonite ring, a few of my fall projects
So we've got a couple weeks of down time, but we both have projects to work on. And before we know it, the holiday season will be upon us. The date for the town-wide Early Bird Sale has been moved up a week, so it will be on November 12 this year. That's less than 2 weeks away! We'll have plenty to do to get ready for the sale, and for Midnight Madness and the Bizarre Bazaar shortly afterward. You know we don't like to go too long without a party, so thank goodness for these events and the chance they give us to bring out the yummy and festive Champagne punch we debuted on Fashion Night Out.
A little less craziness in the day to day operation of the store means that I should have a little more time to write and let you know what's going on in the world of Spruce & Gussy. But I've said that before and been wrong, so I won't make any promises.
Oh, by the way, we're closed Mondays now. We'll be open Tuesday through Sunday, 10 am to 6 pm from now until Christmas.
–Patti