Well, so much for that commitment I made back in May to write at least once a week. Good thing I didn't tell you about that, you'd think I was a real loser. The road to August is paved with good intentions…
Yes, here we are. August. For most of the US population it is a month of downtime; closed schools and offices, barbeque parties and beaches to attend, the lazy hazy days of summer. For those of us who live in Bar Harbor, it is a time of heightened chaos. Even those of us who don't rely on the tourist trade for our income cannot avoid the long lines on the roads and in the grocery store, the crowded sidewalks and the slightly frantic feeling that pervades the air.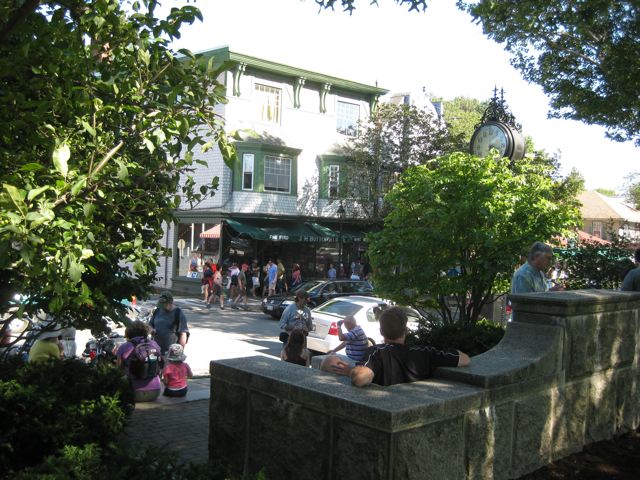 Ah, August. Operating on the principle that if you can't beat it, you should join it, we've decided to throw a party! Shocking, I know. Seems like I'm always telling you about another reason we've come up with to eat, drink and make merry. This time we've invited a couple of our favorite artists here for a special show. One of the wonderful things about living in Maine is that it is a state full of talented artisans. Two of them will be here at Spruce & Gussy this weekend.
Autumn Soares of Four Little Owls sews up the prettiest handbags, totes and messenger bags you ever did see. With inspired combinations of silky, soft leather and fun, bright fabrics, every bag is one-of-a-kind, which to me seems priceless in this cookie-cutter world. And you can have one of your own at a very reasonable price. Autumn lives right here on MDI with her four little owls, aged 1 to 8, and her husband.
Jennifer Atkins Lisa of Quench Metalworks is an extremely talented jeweler. She works with sterling silver, gold, gemstones and vintage buttons to create unique and extraordinary heirloom quality pieces. She is sure to be bringing a fabulous selection from her multi-faceted collection. Jen lives near Augusta with her daughter, husband, dog and chickens.
This month's party happens Saturday, August 20th, between 3 and 9 pm. Please stop by to say hi, have a sip and a snack, and to support your local artisans. Fabulous personal accessories that support your local economy and free wine. What could be better?
–Patti