The 4th of July is right around the corner, and already Bar Harbor seems to be bursting at the seams. We're looking forward to lots of happy mayhem here at Spruce & Gussy, starting with taking everything out of our window and redecorating for the holiday. We would be doing this anyway, but this year the Chamber of Commerce is sponsoring a window decorating contest, so we're even more jazzed up than usual to adorn Constance, our lovely mannequin, and her perch.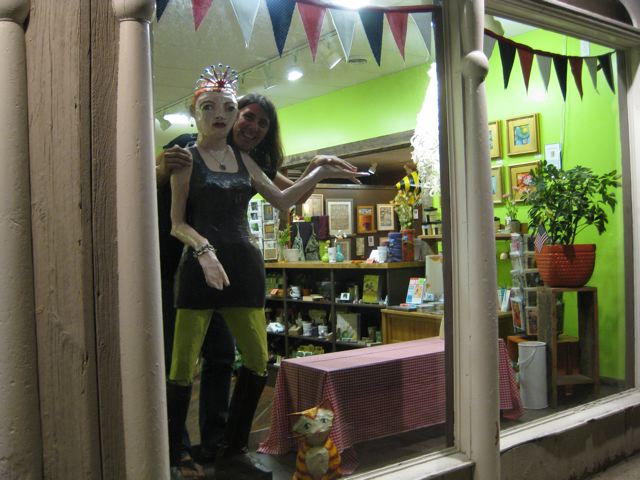 We have a good time redoing the windows, but it can definitely be a lengthy process. Just taking the last display apart takes a lot of time and energy, and then there is putting it back together. The 4th of July is a slightly challenging holiday for us, because we don't have a lot of red, white or blue in our store, being more orange, green and purple kinda girls. But we're always up for a decorating challenge.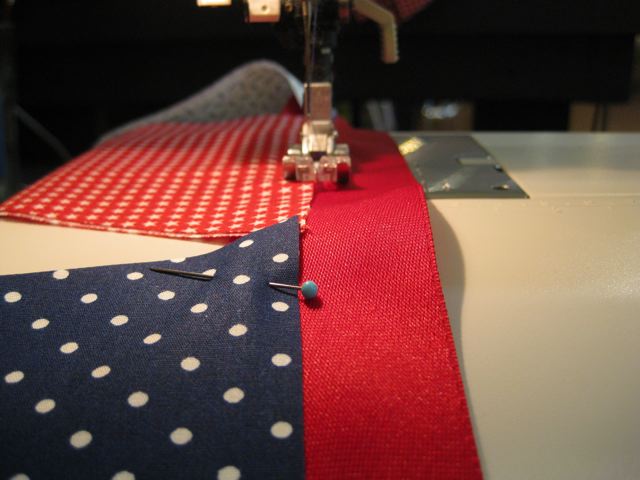 Our window will feature American made goods, one thing we have in ample supply here at Spruce & Gussy. I remember taking my son to buy a little flag to wave during the parade a few years back, and finding only Chinese-made American flags. The irony was too much for me, and we skipped the flag that year. This time around we'll have American made flags and our own tribute to the flag, a banner stitched by us right here Spruce & Gussy.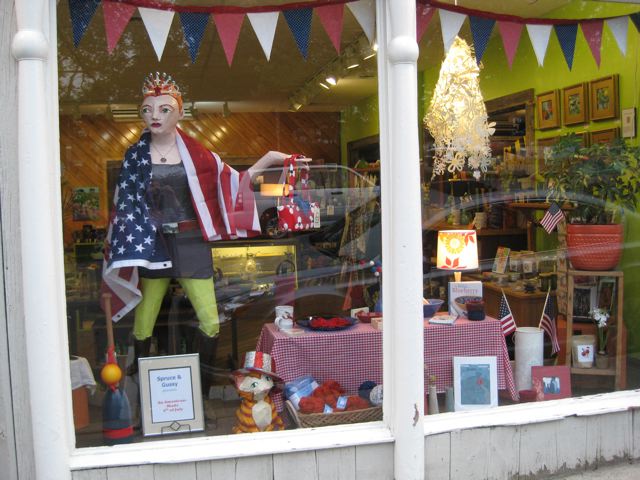 You probably know all about the plethora of fun things there are to do in Bar Harbor on the 4th; if you don't, check out the schedule at the Bar Harbor Chamber of Commerce. One special addition this year is a raffle sponsored by the Bar Harbor Merchant's Association.  Proceeds from the raffle will benefit the Maine Seacoast Mission, and the BHMA's Community Service Events. The grand prize is a beautiful bike, a Raleigh SC2000 Ladies Comfort. The two other prizes are no less grand, if you ask us, gift certificate packages for area merchants worth almost $500 each. We'll both be entering for sure. You can get more info at the above link, or stop by the booth down at the ballfield on the 4th.
Happy Independence Day from festive downtown Bar Harbor. Hope to see you at the fireworks!
–Patti