I find myself falling behind on these advent entries, and I hope you can excuse me. This time of year is so fabulously crazy that some days I just can't get to everything on my list.
This week we'll be showcasing a few of the very talented artisans that you will find at Macey's and at Spruce & Gussy this weekend. Today's advent pick is a collection of Julie Havener's bags and hats.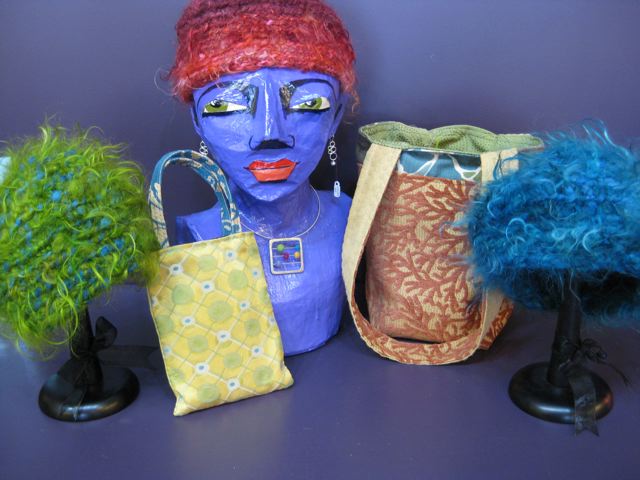 Julie lives and works in Northeast Harbor, right here on MDI, and is well known for her gorgeous bags and fiber work. Her funky hats are easy to spot on the winter streets of town (Michelle and I each have two!) She dyes the fiber, spins the yarn, and crochets them herself. Her color and design choices are amazing and unique, and her combinations are striking. In addition to bags made of tapestry fabrics, as pictured here, she also takes sailcloth to a new level, combining it with bold fabrics to produce noteworthy totes and wallets. Julie is also a talented metalsmith, and will likely have some of her jewelry with her this weekend, too. Her latest line of rings with hammered silver and gold and rose cut gemstones is truly stunning.
Julie will be at Macey's this weekend. The Bizarre Bazaar is Friday, the 10th, from 11 to 7, and Saturday from 10 to 6. Check back for the next featured artist, and be sure to drop by.
–Patti